We've all heard it. If you are a traditionally published author, unless you are the Chosen One of your publisher and they give you a huge marketing campaign or unless you somehow have old money and can hire a fancy publicist, your own efforts to market your book won't make much of a difference in the long run. And it makes sense. For example, even if you get 100 people to buy your book, for a traditionally published book, that isn't very significant (though I'm certain I speak for all authors when I say it is very significant to us. Every single book I sell feels like a miracle to me!). But social media can be used to make your marketing work and help your books reach more readers.
Throughout the years, social media has changed in ways that make it easier for authors to reach their readers.I intentionally use social media as my own little department of marketing for my books and have had the most success with reels on Instagram. Reels and TikToks specifically can be helpful for authors because they are put into their own algorithm that reaches beyond people who are following your profile.
Even though I've only been posting about two reels a week, my reels reach 747k individual accounts a month (you can check your insights to see your reels reach). And there are concrete results: after a few went viral, my book dropped down into a Top 100 Bestseller list on Amazon (it beat Shadow & Bone for about a day! Gonna carry that with me).
How I create reels that work for me: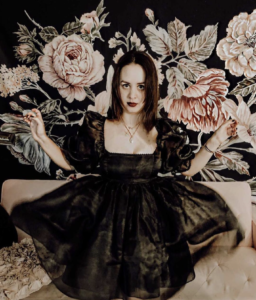 Have an interesting audio. And it doesn't have to be trending! I've had a few reels go viral without a trending audio. I pick audios that I find interesting or funny and try to link them to experiences most of my audience have had or will have. For example, this is me illustrating my writing process, a universal experience.
 Tell a story. This works great for me because I love using reels to capture the writing life as I experience it. Here's the story of how I got my deal with Harper Collins.
 Be original, but conscious of trends. I try not to copy trends exactly but I'm aware of them so I can take part but put a little spin or variation to my reels. I always love making them my own.
With consistency and creativity, reels and TikToks are a fantastic way for authors to have fun and reach readers while spending zero dollars!
Autumn Krause is graduate of VCFA's Writing for Children and Young Adults program (Winter 2014,) and works as a writer in Orange County, California. In addition to writing for young readers, she provides editorial content for a wedding website and interior design magazines. She is most often found wearing a black lace dress and boots.
https://wildthings.vcfa.edu/wp-content/uploads/2022/05/Screen-Shot-2022-05-20-at-9.12.50-AM.png
1404
1740
Ceredwyn Bagley
https://wildthings.vcfa.edu/wp-content/uploads/2018/05/Wild-Things-Logo-transparent.jpg
Ceredwyn Bagley
2022-05-20 14:39:43
2022-05-20 14:39:43
'Making Social Media Work for Your Book' - Autumn Krause, '14