The story of Cinderella is a classic one, dating back thousands of years. Some say the nation of origin is Greece, some say China, some say Egypt. But no matter its origin, the story is one that has resonated with countless generations. Now, VCFA alumnx Rachel Smoka-Richardson has created her own retelling of the story, featuring a gay protagonist with a talent for baking. Check out our interview here!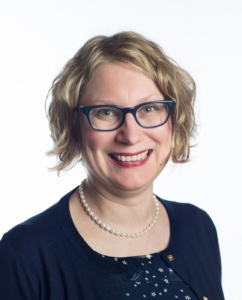 1. Cinderelliot is such a fun book! Can you tell us the story?
Running Press Kids (our publisher) perfectly describes Cinderelliot as "A gay retelling of the classic fairy tale–a scrumptious love story featuring ungrateful step-siblings, a bake-off, and a fairy godfather."
2. Where did this book come from? What inspired you?
The original idea for Cinderelliot actually came from my friend Mark, who I met through SCBWI. We had swapped manuscripts before – and in the summer of 2018 he sent me the original draft and asked me to help him edit the length. I started working on it, and I fell in love with the idea of a gay Cinderella retelling that could be filled with humor and heart. I sent it back to him and asked if he might consider co-writing it with me. Luckily, he said yes!
3. What can you tell us about the writing of this book? What were the challenges of writing a fairy tale retelling?
It took us about a year to get the manuscript to the point where we felt it was ready to show it to my agent. We passed the manuscript back and forth via email, and hired a professional editor (Rob Sanders, author of Two Grooms on a Cake: The Story of America's First Gay Wedding) to give us feedback. Originally Cinderelliot and his stepfamily participated in a palace-sponsored athletic skills competition, and eventually the plot evolved into a baking competition.
Cinderelliot would not exist without VCFA. I started my MFA with a (still) half-finished (terrible) YA novel, but I decided to challenge myself and spent my second semester in the Picture Book Intensive with the incredible Uma Krishnaswami as advisor. During that life-changing experience I fell in love with the picture book form.
I really enjoyed writing a fractured fairy tale – it allowed us to be creative within an existing familiar story. For example, in the original, Cinderella's fairy godmother really just exists to advance the plot. Writing a fractured fairy tale gave us the liberty to use dialogue and illustrations to develop Ludwig, a memorable character with a unique personality.
4. Tell us a little about Cinderelliot. What, besides his gender, sets him apart from the classic Cinderella?
Cinderelliot is not good looking in the classical sense – our extraordinarily talented illustrator Stephanie Laberis described him as having "unkempt hair and noodly poses." But Prince Samuel falls in love with Cinderelliot not only for his looks, but for his baking talent. I feel that our new telling allows Cinderelliot's kind, earnest personality and exceptional culinary skills shine through.
5.You have two other books–mysteries!– that came out in 2022: Cheer Fears and Track and Field. Can you tell us a little about them?
Cheer Fears and Track and Field Trick are part of Capstone Press's expansive middle grade sports series "written" by the fictional athlete Jake Maddox. In Cheer Fears, a ghost seems to be haunting cheerleader camp, and it's up to Robert to figure out who is trying to sabotage his team. Track and Field Trick features discus-throwing Kwan investigating the culprit intent on getting the track coach fired.
6. What were the major differences for you in writing Cinderelliot vs. Cheer Fears and Track and Field Trick?
There was actually one major similarity to all three books – prescribed form and story. With Cinderelliot we were bound to not only the classic plot, but also the picture book form. Since Cheer Fears and Track and Field Trick are part of an established series, I was committed to the style and form of the others – ten chapters of approximately 1,000 words each, a specific reading level, and accompanying back matter relating to the story. My editor asked me to write a cheerleading mystery with a boy main character and a track and field mystery about a girl who participates in a field sport like shot put and discus.
I did need to conduct more research for the Jake Maddox Mysteries, which included watching videos, attending a local high school track meet, and interviewing a girl discus thrower, which I very much enjoyed. While at VCFA I participated in a special residency workshop about research led by Leda Schubert and Bonnie Christensen, which centered around the idea that most books require some form of research, not just nonfiction and historical fiction books.
7. What excites you about putting these stories into the world?
As advanced copies have made their way out into the world, adult readers (including our illustrator) have shared that Cinderelliot is the book missing from their own childhoods. Representation matters, and I'm thrilled to be part of a book that makes readers feel seen. Everyone should be able to fall in love and marry "their person," regardless of gender, race, or social status, just like Cinderelliot and Prince Samuel.
8. Tell us something cool about yourself!
I've recently been accepted into the Doctorate of Education program at Hamline University, during which I plan to study the college writing low-residency model. In January I will start the program by spending a semester in Hamline's writing for children and young adults program. I'm really excited!
Readers can learn more about Rachel at rachelsmokarichardson.com.
https://wildthings.vcfa.edu/wp-content/uploads/2022/08/Cinderelliot-cover.jpg
750
760
Ceredwyn Bagley
https://wildthings.vcfa.edu/wp-content/uploads/2018/05/Wild-Things-Logo-transparent.jpg
Ceredwyn Bagley
2022-08-10 14:59:49
2022-08-10 14:59:49
Cinderelliot: An Interview with Alumnx Rachel Smoka-Richardson